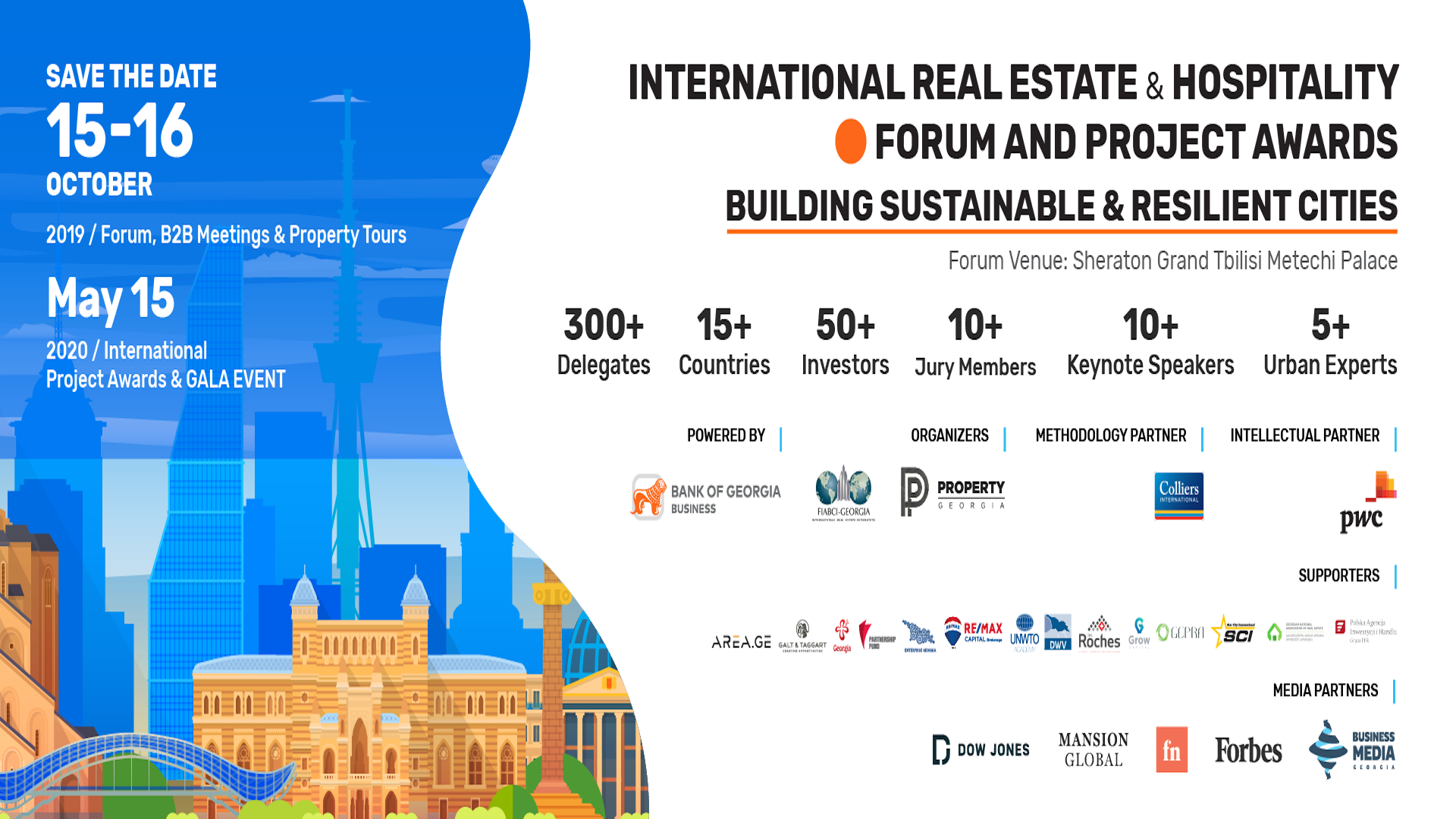 September
12
Georgia To Host An International Real Estate and Hospitality Forum & Awards
On 13 September at 12:00 the Business Association of Georgia will host a round table meeting on the subject of "Georgia as a Real Estate and Tourism Industry Destination." The meeting is organised by Property Georgia and FIABCI Georgia, and supported by the Bank of Georgia. It aims to raise awareness within international circles about the upcoming Real Estate and Hospitality Forum and Awards, titled "Building Sustainable and Resilient Cities," which is to take place on 15-16 October.
The meeting will be attended by members of the diplomatic corps, economic mission attaches, representatives from international associations and founding members of FIABCI Georgia.
FIABCI www.fiabci.org is the world's largest association of professionals working in the real estate sector, and is represented in 70 countries. FIABCI Georgia currently has 20 member companies and associations, including Georgian National Real Estate Association, Colliers international Georgia, Tbilisi City Institute, REMAX Capital, Alliance Group, Responsible Property Investment Council, Property Management Group, Dux Development, Star City, Dirsi, Dreamland Oasis, Schuchman Luxury Villas, Loialte, Riverside Invest, Lisi Development, Marshal Gudauri and Simetria.
"This is the first time that we are hosting the large international real estate and hospitality forum. Its aim is to position Georgia on the global map as an international real estate, tourism and hospitality destination. The event's media partner for international promotion is Dow Jones/Mansion Global/FN, while coverage will be provided by leading international media organisations such as BBC, CNN and Bloomberg.
The main partner for the event is Bank of Georgia. Supporters include Galt & Taggart, the Georgian Ministry of Economy and Sustainable Development, the Georgian Ministry of Regional Development and Infrastructure, Enterprise Georgia, PwC, the National Tourism Administration, the Partnership Fund, the European Bank for Reconstruction and Development, the International Finance Corporation, the German Economic Union and the Polish Investment and Trade Agency.
Media Contact:
Nini Kuchava: +995 555 265544